Hey lovelies! I decided that this Friday definitely deserves a Friday Favourites. The weather in Sydney is super summery and hot and I am getting ready for a weekend of baking (fingers crossed!).
Ideas that work out as planned: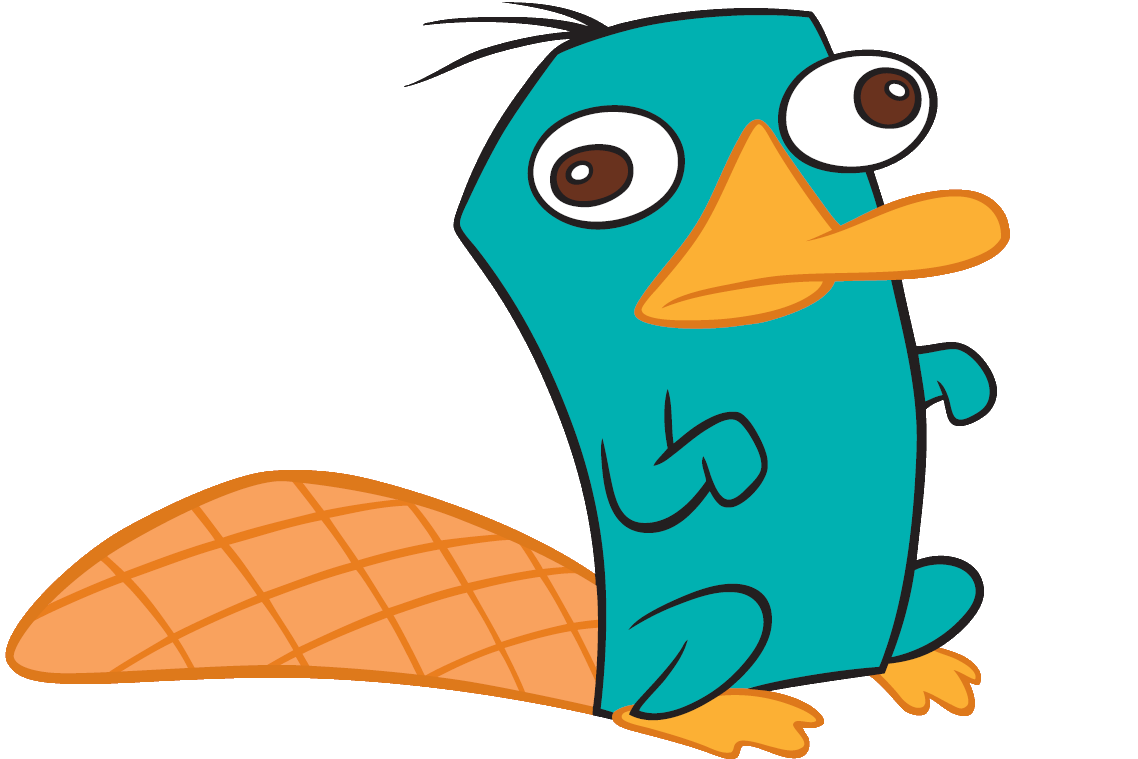 This is Perry the Platypus - Source
Last week was my sisters birthday and I made her this Perry the Platypus Cake. I was actually planning to make her this cake last year, but she was in hospital and in her morphine induced haze she requested I make her a "very rainbow cake" (she doesn't ever remember asking for this) so being the excellent sister I am - I made her a rainbow cake that was covered in rainbow sprinkles - complete with fake flame candles.
If a nurse sees candles on a cake - they will freak out immediately. Especially when your sister is on oxygen. I knew this already so I came up with a cunning plan - Katrina would have candles on her birthday cake, they were just going to have coloured blu-tack flames :P
Nonetheless - the Perry cake came to life this year. Yes, my sister is seventeen - but this cake was made because of her infamous Perry shirt. Actually - that should be shirts. Katrina is obsessed with Perry the Platypus and wore her first shirt to death - so when she was in hospital, we bought her 3 more so that she could wear her favourite shirt without looking like even more of a bum ;P
Summery Treats:
The weather is warming up and I have developed an obsession with frozen treats.
My fabulous friends at Chobani Australia sent me a box of goodies including their awesome Chobani Pops set, so I have been eating them like its my job (which it should be!). The pops you see above were super simple, so here's a not-such-a-recipe
Peanut Butter and Banana Frozen Yogurt Pops (or I guess you can call them CHOpsicles?)
3x Plain Chobani Yogurt Cups

1x Ripe Banana, mashed

1-2 tbsp Peanut Butter
Simply mix all of the ingredients together in a bowl and then carefully pour into moulds. Freeze for 12 or so hours and you're good to go! To get them out, just run hot water over the moulds and they should pop right out!
On the right are the new Smooze Fruit Ices. I was lucky enough to receive a few to try out and was super excited to see that there was a flavour I could eat! If you've read Southern In Law for a while, you'll know that I'm the Queen of Food Intolerances - and the Simply Coconut Smooze passed the test!
You can add the frozen Smooze ices to smoothies or eat them straight up like I did. My family taste tested the rest of the range and they all got the thumbs up!
Pink Foods:
The queen of food intolerances can eat more foods - and oh is it bliss! Lately my favourite colour has been appearing in more than just my clothes and belongings.
I can now eat beetroot and watermelon!
On the left was a foodie experiment gone right - cheesy beetroot quinoa. Also known as holyyyyy yum. (Happy to share the recipe if anyone would like it - but I may just be a weird eater :P).
As for watermelons, I'm trying to limit myself to one whole watermelon a week (cough.. every four days). It's summery, delicious and very quickly becoming an obsession. I'm keen to try making a watermelon salad too - so we'll see how that goes!
A Secret Favourite:
I don't like to keep things from you, but there is one favourite this week that I can't share just yet (and it's killing me not to) but very soon, you shall find out - keep your eyes peeled!
But I can tell you this - Christmas is coming and my Christmas Giftaways are hotting up!
You can already enter to Win a Pair of Shoes from Shoe Envy and next week there will also be giveaways from some of my favourite brands like Almond Breeze and Wonderful Pistachios. Get ready to win!!
So tell me, what was the best thing that happened to you this week - or what are you loving?